How to Redeem NBA League Pass from NBA 2K23 Championship Edition?
NBA 2K23
Date: Sep/07/22 09:54:09
Views: 392
The Championship edition of the game includes many add-on bonuses, from MyTEAM cards to MyCAREER content and VC. Especially it also consists of a 12-month subscription to NBA League Pass. However, many players want to know how to redeem NBA League Pass via the Championship Edition. We're going to show you exactly how to do that below.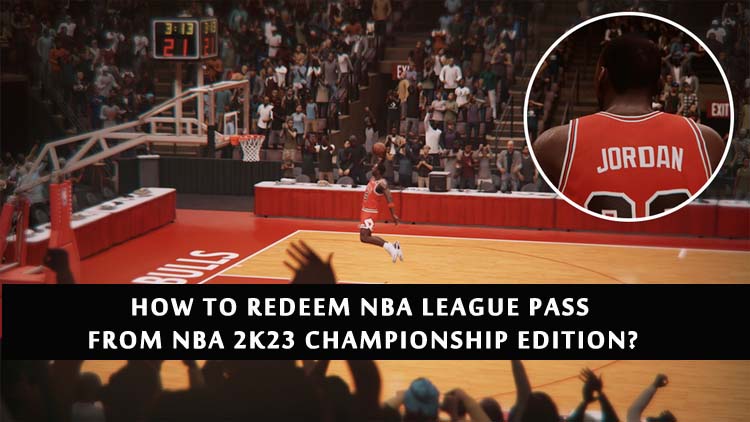 What is the NBA 2K23 League Pass?

NBA League Pass provides you access to games, live and on-demand, for the complete season. You can also watch NBA TV studio shows like Game Time and Basketball Stories, access archived games on-demand, and get 10-min condensed replays of every game.

NBA 2K23 Pre-Order includes a 12-Month NBA League Pass Subscription

If you've placed a pre-order on the NBA 2K23 Championship Edition, you're entitled to 12 free months of NBA League Pass, both online and offline. This is the first time that NBA 2K has given a League Pass subscription to 2K Pre-orderer-ers.

As well as the 12-month subscription, the NBA 2K23 Digital Championship edition pre-order also comes with the following content:

MyTEAM

• 10% XP Boost on MyTEAM Season Progression
• 10k NBA 2K23 MT Points
• 10 MyTEAM Tokens
• 23 MyTEAM Promo Packs (Receive 10 when you first launch the game plus an Amethyst topper pack, then receive 2 per week for 6 weeks)
• Sapphire Devin Booker and Ruby Michael Jordan MyTEAM Cards
• 1 Free Agent Option Pack
• 1 Diamond Jordan Shoe
• 1 Ruby Coach Card Pack

MyCAREER

• 10% XP Boost on MyCAREER Season Progression
• Michael Jordan-themed Go-Kart
• 10 Boosts for each MyCAREER Skill Boost type
• 10 Boosts for each Gatorade Boost type
• 1 2-Hr Double XP Coin
• 4 Cover Star T-Shirts
• 1 Backpack and Arm Sleeves
• 1 Custom-designed Cover Star Skateboard
• 100k VC

How to redeem your NBA League Pass?

There are a few steps you'll have to take to redeem your NBA League Pass:

1). Install your NBA 2K23 Championship Edition
2). Create or log into your 2K account
3). Redeem your Championship Edition Bonus Content code
4). Complete the above steps before December 18, 2022

There are, however, a few things to note. The League Pass is not available with the NBA 2K23 Championship Edition in the following countries:

• Japan
• China
• Belarus
• Cuba
• Iran
• Iraq
• Libya
• Kosovo
• North Korea
• Russia
• South Sudan
• Sudan
• Swaziland
• Syria

It's important to note that the NBA League Pass code will be delivered to the email address associated with the NBA 2K Account with which the Championship Edition Bonus Content was redeemed within 5 days of redemption (but no earlier than September 27, 2022). After receiving the email, you must redeem the subscription before December 31st, 2022.

To learn about more updates, guides, and tips for the game, you can head to U4gm.com.